Panama City PET/CT Scanner
Hope Regional Cancer Center is Proud to Announce the Availability of a State-Of-The-Art PET/CT Scanner For Our Patients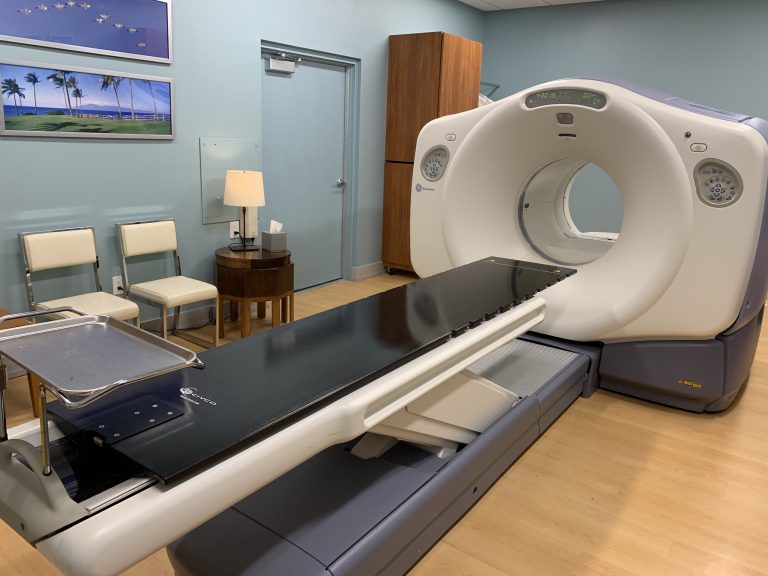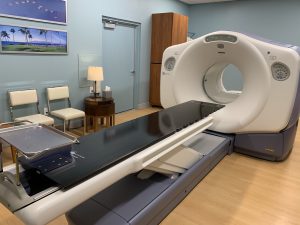 National Accreditation for PET/CT Scanner – We are proud to announce the arrival of our GE 16 slice PET/CT scanner. Our PET/CT scanner is accredited by the national accreditation organization American College of Radiology (ACR) mandating diagnostic quality and safety standards. The addition of PET/CT scanner to the Cancer Center will significantly benefit both our patients and patients in Bay County and the surrounding Medical Communities as a non-invasive detection and staging of cancers, neurological conditions and cardiovascular diseases.
With an order from the referring physician Hope Regional Cancer Center will now be able to perform the PET/CT for your patients. You will receive prompt interpretations from the trusted and dedicated team of Board-Certified Radiologists from Bay Radiology. You can also be confident that your patients will receive the best care that they deserve from our dedicated staff at the Cancer Center.
Please call our friendly staff at 850-481-1687 today to schedule your patients PET/CT scanning need.
About The GE LightSpeed RT 16
GE LightSpeed RT 16 Features
Excellent positioning freedom
Comprehensive range of treatment planning capabilities
Enhanced performance
Wide 80 cm bore
High resolution images
Greater detail for precise contouring
Exceptional table stability
GE LightSpeed RT 16 Technology
Thorough patient anatomy
No trade-off in challenging areas
Compatible with most mobile lasers
Compatible with treatment accessories
Best solution to tumor motion
Real-time view of a moving target
Advantage CT/PET Fusion
Advantage CT/MR Fusion
Auto-Segmentation
AW Remote Access
GE LightSpeed RT 16 Tech Specs (Technical Specifications) Basic GE LightSpeed RT 16
Type: Multislice
# of slices: 16
Performance
0% mtf: 15.4 lp/cm
50% mtf: 8.5 lp/cm
Slice sensitivity profile
Low-contrast resolution: 5 mm at 0.3% at 1.33 rads, 3 mm at 0.3% at 3.72 rads
Noise: 0.32% ±0.03 at 2.85 rads
System Integration
Recommended post-processing workstation: AW
Remote access to clinical applications: Optional
Dicom 3-d image export: Yes
Recommended Room Size: 28 m2 minimum, optional 45 m2
LightSpeed RT 16 Gantry
Gantry angle: ±30 degrees
Gantry size (height x width x depth): 188.2 x 222.5 x 100.6 cm
Gantry weight: 1269 kg
Gantry opening: 80 cm
Scan localizer: Laser
Radiation Dose
Dose modulation technique: Smart Addition, Auto mA
Pediatric specific dose control: Color coding for kids
Power Needed
380-480 V nominal
3-phase delta or wye
X-Ray Tube
Heat storage: 6.3 MHU
Heat dissipation rate: 840 kHU/min
Tube cooling: Oil/air
Tube focal spots: 0.7 x 0.6, 0.9 x 0.7 mm
Expected tube life, scan sec (& calendar): See tube warranty
Maximum ma: 440
Maximum scan time at maximum ma, sec: 5
Image Reconstruction
Cpu: Open architecture/ LINUX
Scan fovs: 25, 50 cm
Reconstruction matrices: 512 x 512
Per slice: Up to 16 frames/sec
No. of online images: 250,000 (512 x 512)
Archive: 2.3 GB MOD, DICOM 3.0
Generator
kW output: 53.2
Kvp range: 80, 100, 120, 140
Ma range: 10
Patient Table (Range of movement)
Vertical: 51.6-99 cm
Longitudinal: 170 cm, optional 200 cm
Scanning range: 170 cm, optional 200 cm
Max load capacity (accuracy, mm), without restrictions: 227 kg (±2 mm
Clinical Applications and Functionality
Applications/ Software: Advantage 4-D, Advantage fusion applications, Advantage Sim 6.0, AutoScan, AutoArchive, AutoFilm, AutoVoice, AutoTransfer, SmartPrep, ProtocolPro, View/Edit Wizard, DynaPlan Plus, ImageWorks, ProView, PNR, ConnectPro, SmartScore, advanced vessel analysis,
Respiratory gating: Optional
Other: Advantage Sim, Advantage fusion, Advantage 4-D
DICOM: As defined in DICOM Conformance Statement
Modality worklist SCU: Yes
Query/Retrieve SCU and SCP: Yes
Storage commitment SCU: Yes
Modality performed procedure step SCU: Yes
IHE profiles supported: Yes
LightSpeed RT 16 Detector (Scattered Light)
Total detector width, z-axis: 20 mm
Reconstructed slice width options: 1.25, 2.5, 3.75, 5, 10 mm
Optional min slice width: 16 x 0.625 mm
Standard Rotation times, sec, 360 degrees: 1, 2, 3, 4
Other
FDA Clearance: Yes
CE Mark (MDD): Yes